I think it is safe to say that there is no place like Hawaii. From all the places I have traveled (and there are MANY of such places), Hawaiʻi easily makes it into my top 3 and will always remain one of my favorite destinations. This is an itinerary for Oʻahu that shows you how to spend 4 days on the island.
What you should know before you travel to Oʻahu
Oahu is a tiny Hawaiian island that is part of the USA. It is a paradise for nature lovers and adventure lovers, but is also know for its surfing culture, pristine wildlife,  world-class surfing, and active aloha atmosphere.
Best Time to Visit Oahu
The best time to visit Oʻahu is either from April through June or from September through December. If you stick to these dates you will skip high season, which means there will be less crowds at the beaches and lower prices for your tours, activities, and hotel rates.
And don't worry, weather is not a problem! Temperatures on Oʻahu  stay between the high 60s and low 80s °F year round. The hottest months are May – October, but there is always a tropical beach where you can take a refreshing swim close-by.
About the island of Oʻahu
The island of Oʻahu is old when it comes to Hawaiian islands. It was formed by volcanic eruptions over 2 million years ago, evidence of which you can still find all over the island! Here, you can find impressive mountains, steep ridges, lush tropical valleys, and many waterfalls – a true hikers paradise.
Because Oʻahu is located in the middle of the pacific ocean ocean life is very different from what you are used to. Our waves probably are bigger, and our Polynesian history is also very interesting to learn about.
Whatever you're into, you'll probably find it when you get to Oʻahu!
This Itinerary for Oʻahu
I had actually a hard time trying to condense all the incredible things to do on Oʻahu into a 4-day itinerary, so I had to make some hard choices.
However, I feel that the most important highlights made it into this itinerary, and 4 days is certainly enough to get the best out of a trip to Oʻahu. Besides, as vacation time comes at a premium spending only a few days on Oʻahu gives visitors more time to explore other Hawaiian islands, such as lush and ancient Kauai, Maui with her gorgeous beaches, or the Big Island with its gorgeous black sand beaches, the Manta Ray dive and the active volcanoes.
Here is a quick overview of this Oʻahu itinerary so you know what to expect before you visit the most popular Hawaiian island:
Day 1: Explore downtown Honolulu and see the Diamond Head Crater
Day 2: The North Shore and beaches
Day 3: Go Snorkeling at Hanauma Bay and take a hike to the Manoa Falls
Day 4: See Pearl Harbor and other ways to spend your last day on Oʻahu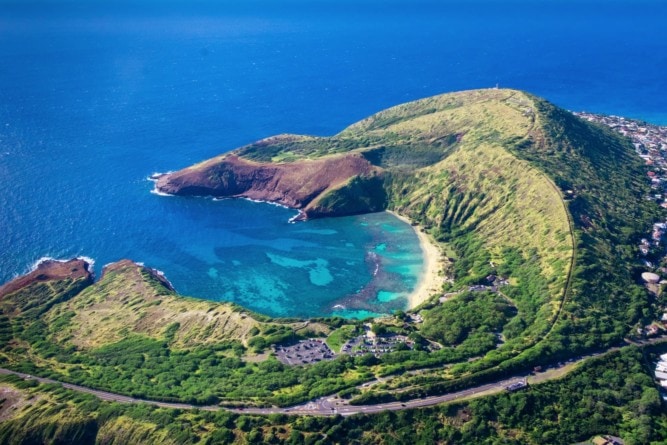 Where to Stay on Oʻahu
Many of Oahu's best hotels are located in Honolulu in the Waikiki neighborhood. Waikiki is a historic part of the city and has been inhabited at least since the 15th century.
Hawaii's ruling caste quickly made Waikiki in a vacation destination for themselves, and the first luxury hotel there was built in the early 20th century. This hotel survives until today: it is called the Moana Surfrider.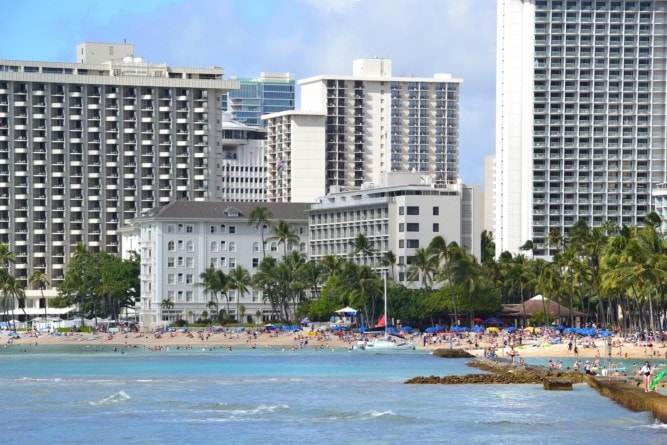 There is no better beach on Oʻahu than Waikiki if you appreciate accessibility and a calm ocean. High-rise hotels, designer boutiques, and a never-ending supply of mouthwatering food options are all very close.
If you choose to stay in Waikiki Beach, you'll be close to the Pearl Harbor Memorial, Diamond Head, and Hanauma Bay.
Accommodation suggestions for Waikiki
Another Oʻahu hot spot is the North Shore.
Accommodation on the North Shore
The North Shore of Oʻahu is famous for surfing, and for the beaches and natural beauty. I really appreciate the laid back and rural vibe of the North Shore. People looking for luxury should try the Turtle Bay Resort. Other good (and cheaper) options are the Backpacker's Vacation Inn & Hostel or the Ke Iki Beach Bungalows. Vacation rentals are also very popular as well.
Renting a Car on Oʻahu
While Oʻahu has a reasonable public transport system called "The Bus", we still recommend most people to rent a car for at least part of their stay (day 2-4). This is because the added flexibility that a car gives you, but mostly because it makes transit from one place to another so much faster.
Day 1: Downtown Honolulu and Diamond Head Crater
Welcome, you arrived on Hawaiʻi and are ready to spend your first day on Oʻahu! Today you will explore the Diamond Head Crater and downtown Honolulu.
Enjoy real Hawaiian Coffee in Honolulu
Start your first day in Oʻahu as we start every day: with a cup of fresh Kona Coffee. Kona coffee beans are grown on the Kona coast of Hawaiʻi island and are world-famous for their complex taste, which they get thanks to excellent growing conditions on the nutrient-rich volcanic soil.
You can taste Kona Coffee at many local coffee shops – make sure to ask your hotel concierge if they have any good tips on where to go for a good cup of coffee.
Climb the Diamond Head Crater
An advantage of staying in Waikiki is that it is very close to the Diamond head crater. Close enough for a bike ride! Some hotels there even offer bike rentals, so make sure to ask around if that sounds good to you.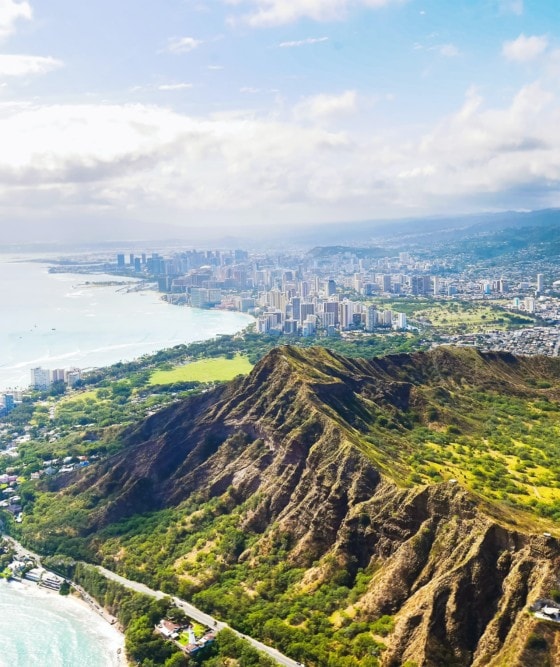 The Diamond Head Crater is a remnant of a volcano that erupted over 300,000 years ago. More recently, the Diamond Head crater was used by the military. Now, it is a park that is managed by the city and council of Honolulu.
There is one main trail at the Diamond Head Park that takes you by lots of historic places and takes you up to a viewpoint with amazing views of Honolulu and the pacific ocean. The trail is less than 2 miles altogether, but quite steep!
Plan to arrive at Diamond Head early so you can be done with the hike by noon. This way you can spend the hottest part of the day doing other things than walking uphill.
Bike, walk, or drive back to the city, where you can enjoy a tasty lunch to wind down from the adventurous morning.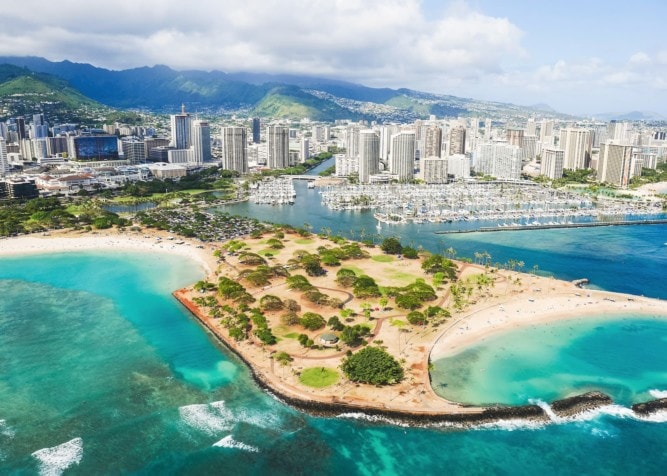 The Iolani Palace in Honolulu
Skip the hot sun and explore Honolulu's Iolani Palace instead during the hottest part of the day. Iolani Palace is the restored summer vacation palace used by King Kalakaua and his dynasty.
The palace is a national historic landmark and the only official royal residence in the United States! There is no better place to start learning about the last ruling leaders of Hawaii's monarchy.
Other worthwhile museums in Honolulu include the Shangri La Museum of Islamic Art (reservations needed) and the Honolulu Museum of Art – just in case you end up with a rainy day or want to learn more about the culture of Hawaii.
Sunset and Dinner at Duke's
See the sun dip below the ocean from Waikiki beach and then make your way to Duke's for dinner. The restaurant is named after Duke Kahanamoku and should be on every Oʻahu bucket list.
Duke Kahanamoku is a surfing legend and you can find a wonderful statue of him along Waikiki beach. He set multiple world records, won Olympic Gold medals, and pushed the sport of surfing into popularity. Then, he moved to California and became a movie star 🙂
Day 2: Visit the North Shore
Start your second day again at a coffee shop for a good cup of Kona coffee and grab a hearty breakfast –  you'll need it for a busy day touring Oʻahu's North Shore.
Dive With Sharks at the North Shore
Start your day with an adrenaline rush and plan to go cage diving with sharks. Seriously, it's one of the best and most memorable things to do on Oʻahu!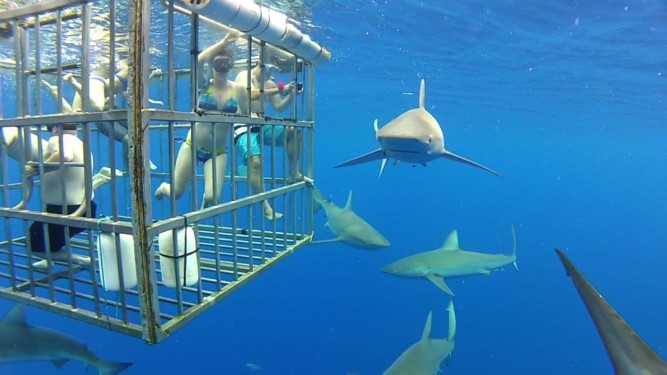 Most cage diving tours guarantee shark sightings, and there are several species you can expect to see, such as Sandbar sharks, Galapagos sharks, or even tiger sharks!
During the activity you will be separated from the sharks by a cage for safety. Still, this is a once-in-a-lifetime Hawaii experience!
Have Lunch at one of the Many Delicious Food Trucks
Stop for lunch at one of the North Shore's famous food trucks for lunch. A simple search on Yelp or Instagram will give you a good idea of what is available, but when in doubt head over to the Kahuku Roadside Food Court.
Garlic shrimps, spam specials (yes, the canned ham is popular here!), and Korean BBQ, are popular choices.
Look for turtles at Laniakea Beach
After lunch, stop at Laniakea Beach to let your food settle and look for Honu (Hawaiian green sea turtles). This beach is one of their favorite hangout spots on Oʻahu because the beach is surrounded by shallow waters and rocky spots where their favorite snack (seaweed) grows in abundance.
When you  see  turtles it is possible there are some volunteers around that protect the turtles from too much attention. Green sea turtles are protected and you are required to stay at least 10 ft. away from them. Make sure to keep a safe distance from the turtles.
Cliff-jump at Waimea Bay or take a dip at the Waimea Falls
Now that you have seen sea turtles it is time to drive to the nearby Waimea Bay. Waimea Bay is know for the occasional immense waves it gets in the winter, and for a large rock formation that locals climb and use for cliff jumping. If you want to try this yourself make sure that the waters are calm and the tide is low. Water shoes are also a good thing to have as the rock is jagged and can get slippery.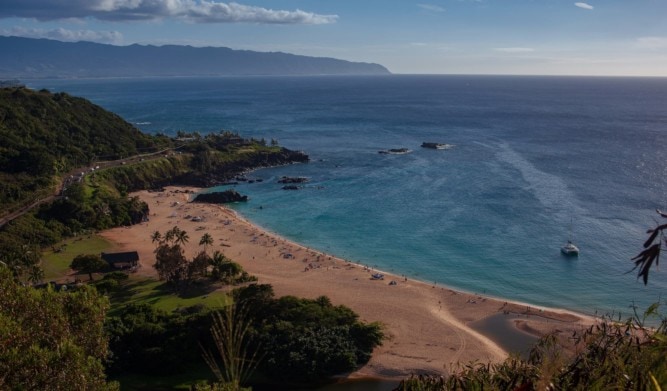 If you prefer a less sandy afternoon activity you can  cross the street and visit the Waimea Valley botanical gardens. These gardens are lush and easy to navigate and are home to the swimmeable Waimea Falls.
To get to the falls you need to make a 1-mile hike out to the waterfall and the waterfall swim is quite organized: visitors are provided with (and are expected to wear) life jackets.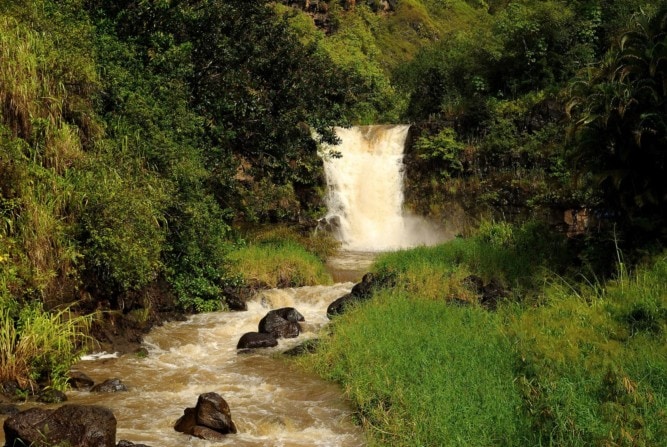 Dole Pineapple Plantation
Head home to your hotel in Honolulu through the central Oʻahu region and make a stop at the Dole Plantation for a pineapple tour. The plantation can feel a bit like a tourist trap but is fun to visit, and you can treat yourself to some famous dole whip, explore a fun maze, and learn about the plantation history. This stop is especially recommended for families.
End your  second day with a delicious Mai Tai at the Royal Hawaiian's Mai Tai Bar. Mai Tais are our cocktail of choice to put us in a true Hawaii mood.
Day 3: Snorkeling at Hanauma Bay and going to a Luau
On your third day in Oahu it finally is time to go snorkel! The best place to snorkel on Oʻahu is Hanauma Bay.
Snorkeling at Hanauma Bay
Hanauma Bay is a nature reserve and a protected cove that once was a volcanic crater. This is one of the most popular tourist attractions in Oʻahu and you need book your visit in advance. The on-line reservation system only accepts reservations from 2 days before your visit and fills up quickly. Make sure to remember to book!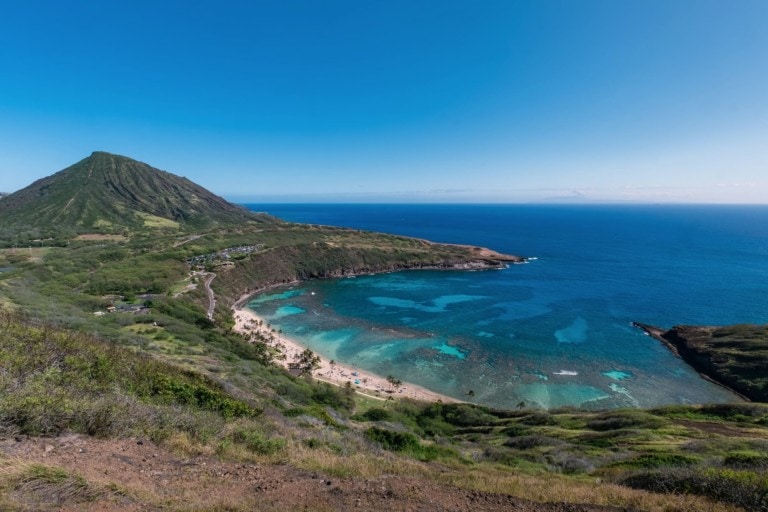 Before you can go snorkeling visitors are required to watch a short information video to teach them best practices on how to navigate the reef. This is important to preserve the beauty and sanctuary of the wildlife in this place, so please pay attention.
When snorkeling at Hanauma Bay you will see lots of fish and other marine life. Shallow and clear water and a calm ocean make for good visibility, and the coral/rocks under water make finding fish easy. Don't forget the underwater case for your phone or camera!
Visit Manoa Falls or the Lyon Arboretum
This afternoon you can visit the Manoa Falls and Lyon Arboretum. Unlike yesterday's Waimea Falls you cannot swim at the Manoa Falls, but the hike up to the falls is beautiful. It's also one of the off-the-beaten-path attractions. So, it provides a nice break from the crowds.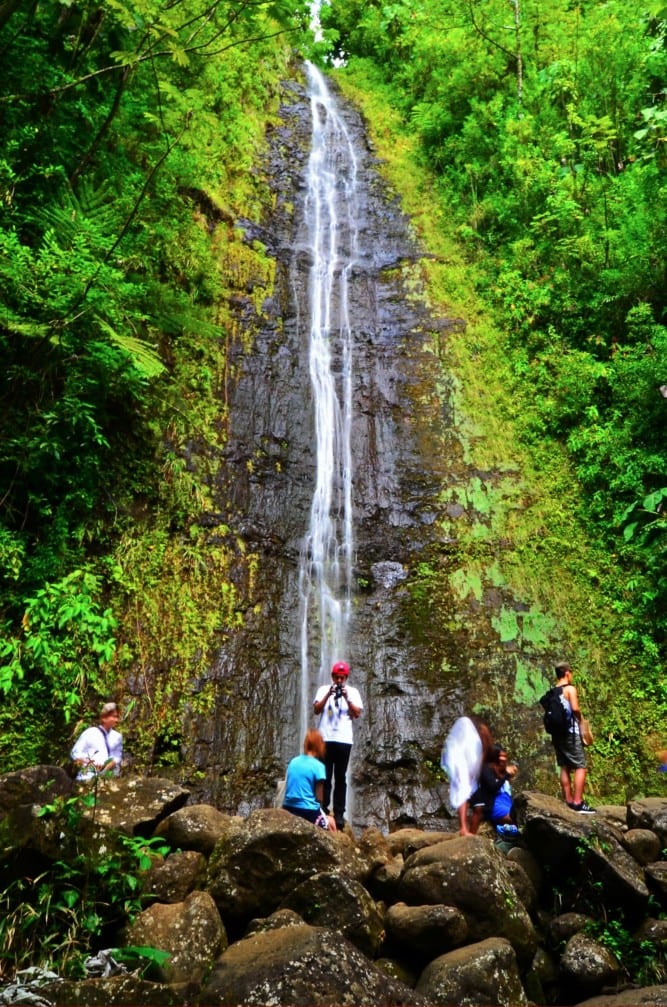 Alternatively you can head out to the nearby Lyon Arboretum. This is a a public botanical garden nestled in the back of Mānoa Valley with many interesting plants and trails to explore.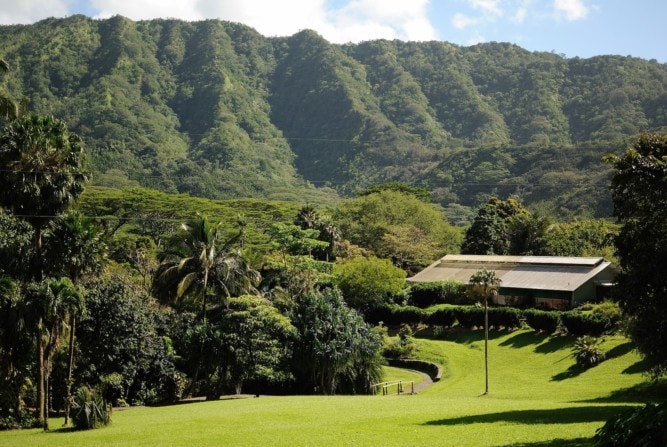 Splurge on the Best Oʻahu Luau
The next thing on your Oʻahu itinerary is attending a Luau! There are many Luau shows on Oʻahu but in our opinion the most authentic is the one at the Polynesian Cultural Center.
Arrive early if you can because the grounds of the Polynesian Cultural Center are landscaped beautifully. The Luau takes place during sunset.
The Luau includes a traditional buffet-style dinner with staples like Imu pork, poke, white fish, and salmon. During dinner, you'll have live entertainment including singing, hula dancing, and fire dancing.
Good to know:  because the Polynesian Cultural Center is run by the Mormon church, this is the only luau on the island where you cannot get alcoholic beverages.
Day 4: Pearl Harbor and Play Time
This is your last day on Oʻahu. As usual start with some good Kona coffee and a good breakfast to get your days started.
Visit Pearl Harbor
If you know any WWII history you have heard of Pearl Harbor. This was the location of the surprise attack by Japan on America that prompted the USA to join the war.
At Pearl Harbor you can see a great selection of historical sites like the battleship USS Missouri, the USS Arizona Memorial, the Pacific Aviation Museum, the USS Bowfin, and many more.
Other things to Do in Oʻahu on Your Last Day
Since it's your last day in Oahu, spend your afternoon however you'd like. Here are some suggestions:
If you feel like botanical gardens and a stroll check out the Hoʻomaluhia Botanical Garden.
For more excitement join a parasailing experience at Waikiki Beach.
Or, choose for a snorkeling boat tour for some off-the-chart snorkeling without the usual crowds.