Many things make Oʻahu famous, but maybe none are as well-known as the island's beaches. These are Oahu's most popular and nicest beaches.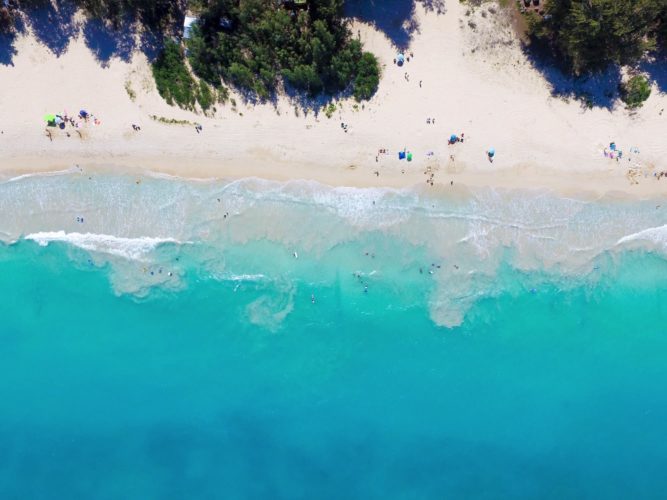 Map of Best Oʻahu Beaches
See the map below for where to find all our favorite beaches on Oʻahu.

Descriptions follow below.
Best Beaches on Oʻahu
Hawaii is famous for its beaches and the wonderful activities that go with it, such as surfing and standup paddleboarding. These Oahu beaches should be on everyone's bucket list!
Are you also going to the Big Island? then you should definitely check out some of our favorite black sand beaches there.
Lanikai Beach
Lanikai Beach, rated by many as  the best beach on Oʻahu, is one of those picture-perfect beaches, excellent for swimming, viewing the sunset and sunrise, sailing, windsurfing, and snorkeling.
Kayakers can make a short trip to nearby abandoned islands and, if you have the opportunity to visit those islands, you will be able to see wildlife at its best. More into hiking? Then you should definitely check out the Lanikai Pillbox hike and take a dip at Lanikai Beach afterwards.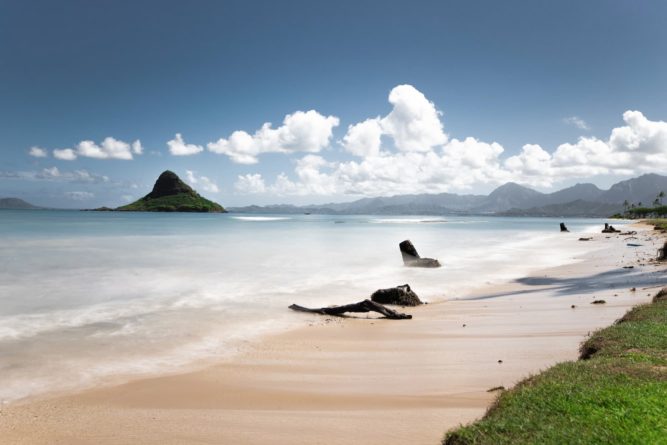 This beach is right in front of a residential area and the most difficult thing you will encounter in getting there is finding proper parking! Please make sure to follow all parking directions and count on a 5 to 10 minute walk to get from your car to the beach.
The sand at Lanikai is white, and the sea is warm and straight out of a fairy tale. Sunrise chasers will want to put an early visit to this beach on their list but honestly Lanikai Beach should be on everyone's Oʻahu bucket list!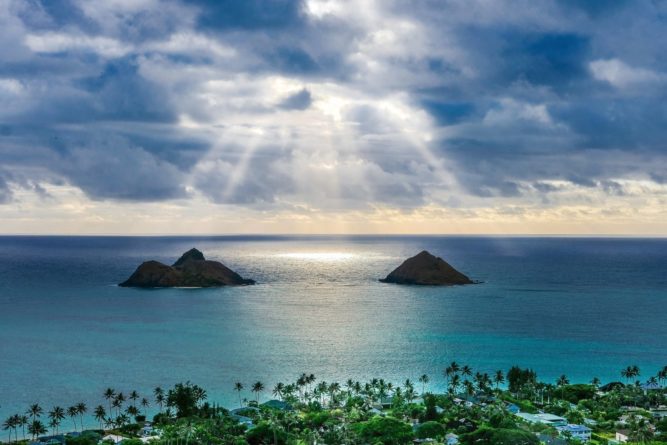 Waikiki Beach
Waikiki Beach is without a doubt one of the most well-known beaches in the world, and this Oʻahu beach has been a hub for Hawaii tourism ever since it started!
The beach consists of several miles of beautiful, fluffy white-sand beaches split into 7 sections and bordered by tall palm palms and a bright blue sea. Many parts of the beach are roped off for swimming and protected by outer reefs, so the waves are gentle and surfing conditions often perfect for beginning longboarders.
Some of the most popular sections of Waikiki beach are Fort DeRussy Beach (fronts the Royal Hawaiian Hotel), Kuhio Beach, and Queen Surf Beach. Swimming, surfing, boogie boarding, catamaran, and outrigger canoe trips are all popular beach activities.
Being so famous you should count on a very busy beach-experience. It is a great place to people-watch and to wind down after a busy day of exploring the many wonderful things to do in Honolulu. Because Waikiki is located right in front of Honolulu we recommend you head out there at the start or end of your day so you can claim you have been to one of the world's most famous beaches!
Sunset Beach
Sunset beach is one of the most popular beaches along the famous North Shore.
During wintertime the North Shore is famous for the large swell which makes the water unsuitable for swimming, so we recommend to go here during summer time for swimming, and during the winter months to check out the surfing action.
During the summer the water is calm making sunset beach ideal for swimming and snorkeling. It has magnificently clean water and a white sand beaches that stretches 200-300 feet between the ocean and the road!
Normally it is pretty easy to find parking close to the beach, but during the big surfing events parking is impossible to find.
Malaekahana Beach
Malaekahana Beach is a rare Oʻahu beach that doesn't get crowded. Go here to refuel your battery and get away from the crowds.
The mile-long beach with white sand is located in Malaekahana Bay on Oʻahu's northwestern shore, between Kahuku and La'ie. When going here we like to relax on the beach to enjoy the sun and perhaps go for a small hike. The main feature of the beach however is definitely the excellent swimming.
Bringing water shoes can be a good idea because the nearshore waters and seabed can be rough. There is also a campsite next to the beach with cabins for rent, so if you are looking for a romantic getaway this might be a good option.
Use caution when entering the water in the winter months as there are strong currents and no lifeguards are on duty.
Kahana Bay Beach Park
Kahana Bay is one of the best-kept secrets of windward Oʻahu, surrounded on three sides by the gorgeous Koʻolau Mountains. The sandy beach is ideal for sunbathing, and the ironwood trees offer ample shelter for a picnic.
An ancient Hawaiian fishpond, called a Huilua, is located on the south end of the bay, where Kahana Stream enters the ocean.
People don't often swim here because the runoff from the Kahana Stream makes the water a bit murky, but the bay is ideal for sunbathing, fishing and kayaking.  You can also find two hiking trails in the park, as well as camping and picnic facilities.
Kailua Beach
With its crystal clear water and powder-like white sand Kailua Beach is the prototypical paradise-like beach, and often recognized as such "best beaches of the world" list.
It is only one mile away from Lanikai Beach (see above), but in contrast to that beach Kailua beach does feature restrooms, beach showers, and picnic tables on the park grounds. There is also ample parking, and attached to the beach is a 35-acre park with many outdoor sports and recreation opportunities.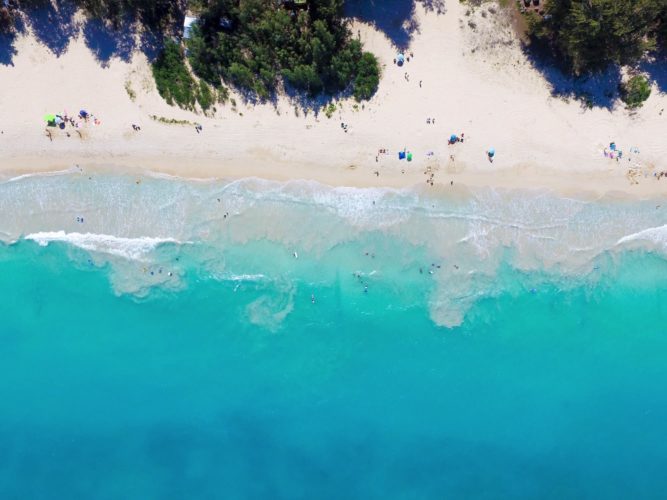 You can find many good places to eat and shop close to the beach in Kailua proper. Downtown Kailua for example is only a few minutes from the beach, which is great if you want to pick up a Hawaiian plate lunch or some snacks and beverages to eat on the beach.
Waimea Bay
Like almost all North Shore beaches Waimea Bay has a use for the summer months, and a different one for the winter months!
During summer Waimea Bay is a great beach to go to for swimming, snorkeling, and paddle boarding, because the waves are gentle and the ocean quiet.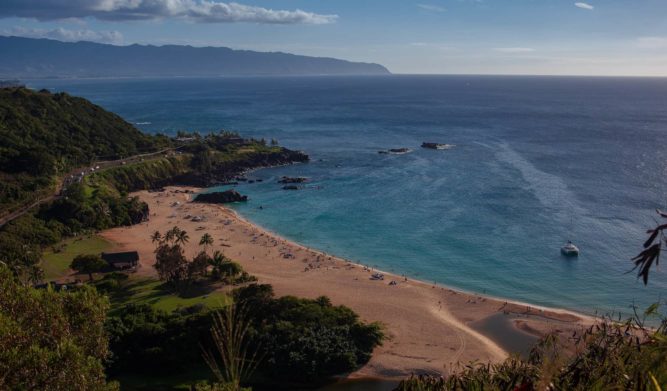 During winter months this all changes. Winter storms bring BIG swell to the North Shore which makes the waves dangerously high and the water murky. For reference, waves can reach up to 20-30 feet(!), and the world-famous 'Eddie Aikau Surf Competition' is held at Waimea Bay when the waves are high enough.
Good to know: across the beach you can find the popular Waimea Valley Botanical Garden, where you can find among other things a swimmable waterfall.
Diamond Head Beach Park (for surfers, not swimmers)
Located at walking distance from Kapiolani Park, Diamond Head Beach Park is a little-visited beach park with a jagged and rocky shoreline and a GREAT surf break.
People typically come here for a stroll along the picturesque beach or to go surfing. While it is close to Honolulu and the famous Waikiki Beach, crowds stay away here.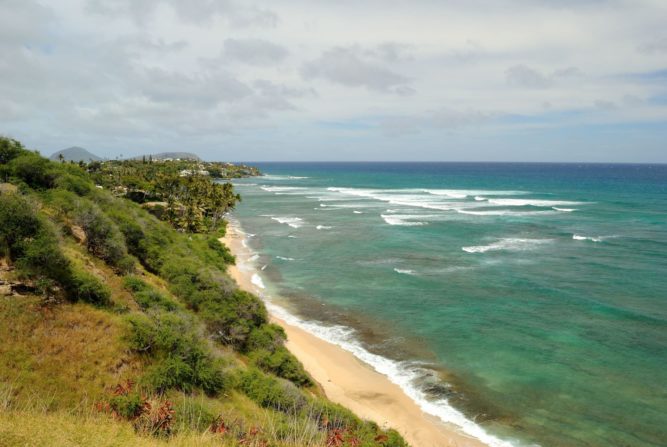 Visitors often add a short visit to this beach to their visit of Diamond Head State Park. Here you can hike up the 760-feet extinct volcanic crater to get a 360 degree vista over Honolulu and the south shore of Waikiki.
Sandy Beach
Sandy Beach is a 1,200-foot long beach made of golden sand and great for surfing or boogie boarding because of the large waves that crash right near the shoreline. While not as quiet as the previous two beaches no our list, this is also not a very busy beach when compared to other Oʻahu beaches.
Located about 10 minutes past Hanauma Bay and 40 minutes from Waikiki, there luckily are showers and restrooms available at the beach.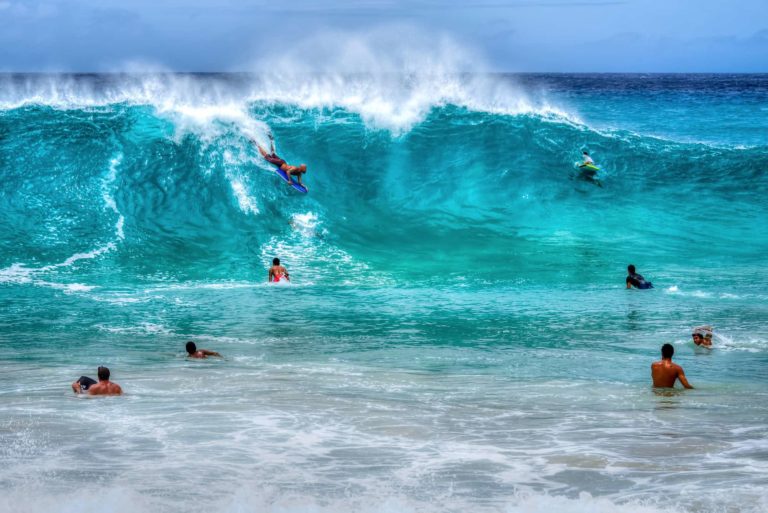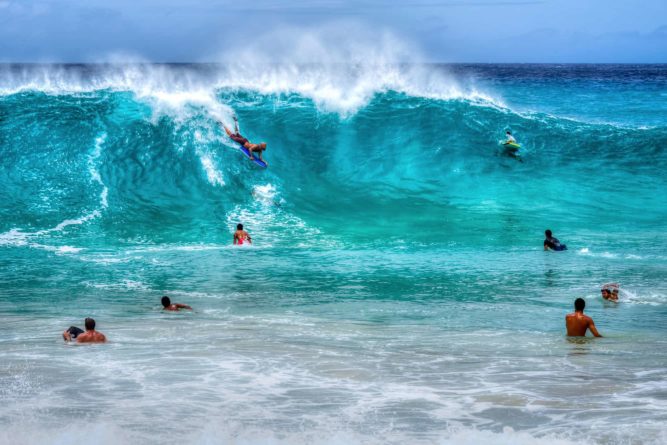 Because of the large crashing waves we mention above this is not a good beach to go swimming, but a GREAT one to go people watching. Especially people that are playing in the water bodysurfing or on their bodyboard.
Nanakuli (Kalanianaʻole) Beach Park
Do you like diving and snorkeling? Then Kalanianaʻole Beach Beach Park is the place to go!
Formerly known as Nānākuli, Kalanianaʻole Beach Beach stretches between two limestone cliffs and is a stunning stretch of shoreline.  Coral and rocks protect the beach from the higher surf, making this beach park a good place for snorkeling and swimming throughout the year. When the surf is up, you can also have a careful go at body boarding here.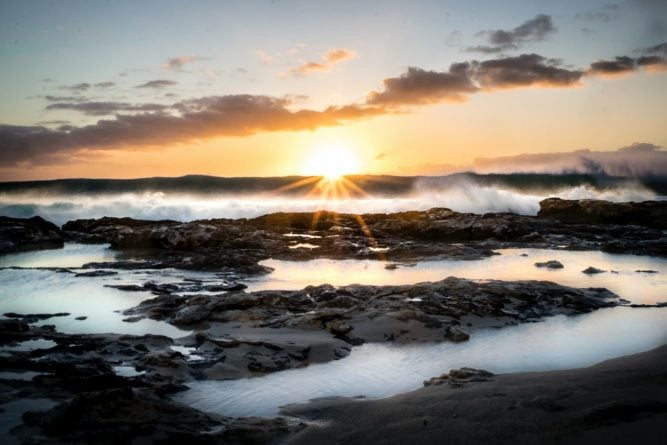 Good to know:  even though the waters here may seem tranquil, the current can be very strong. Stick to the southern end of the beach where conditions are milder if you are not a strong swimmer.
Makaha Beach Park
Because of its location on the less-popular leeward (western) coast of Oʻahu, this beautiful beach is more a local hangout spot than a tourist attraction. Even still, this is the second most popular beach on the west coast after Ko Olina.
This is a beach where we like to sit back and relax with a small picnic to look at the ocean and take in the ocean sounds. If you feel more active you can get in the water to snorkel and explore the reefs and rich marine life.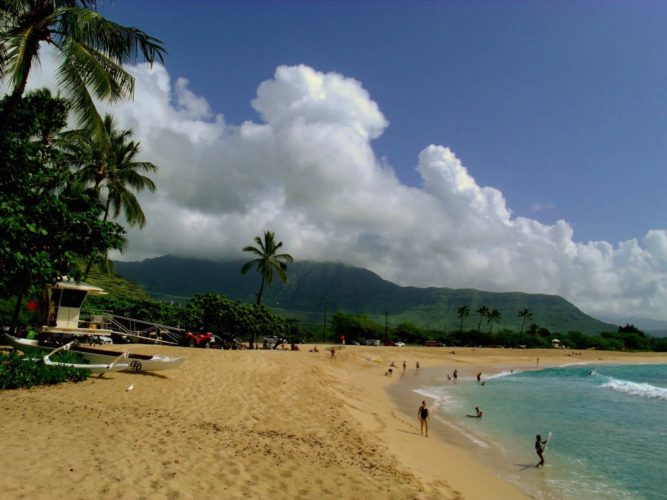 The middle part of Mākaha Beach is the best place to go swimming while the northern area of the beach has stronger waves and currents (surfers!). Note that there are no lifeguards on duty, and that there are restrooms, showers, and a few picnic tables at the beach.
Ala Moana Beach Park
Located in Honolulu just across the street from the well-known Ala Moana Mall, Ala Moana Beach Park sports acres of leafy trees, picnic tables, and a large stretch of grass to play on. This truly is a place where you can find everything for everyone – for example you can find a tennis court here, a yacht club, three concession stands, and of course a half-mile long stretch of pearly white sand.
If you are staying in Honolulu this is a good place to go to see the sunset and to watch the paddle groups go out from the Ala Wai Harbor.
Pokaʻi Bay Beach Park
Pokaʻi beach is a family-friendly local beach at driving distance from Honolulu with calm waters and lots of turtles.  The bay is shallow and has a sandy bottom, making it a great beach for young kids.
Next to swimming and snorkeling, the sand is sticky enough to make good sand castles with (or without) your kids, or visiting the historic Ku'ilioloa Heiau (temple) on the peninsula in the bay.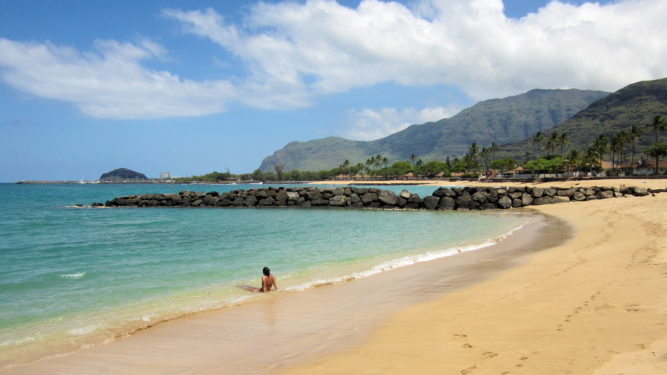 Pokaʻi Bay Beach spans 15 acres and is the most protected bay on the leeward (west) coast of Oʻahu thanks to an offshore breakwater that keeps it safe from strong currents and big waves. The last thing means that this also is a good spot for beginning surfers.
Bellows Field Beach Park
Bellows Field Beach Park is an extension of Waimanalo beach (see above) and is fronted by a long and wide white sand beach. A shallow offshore sandbar in front of the beach provides good waves for bodysurfing and bodyboarding. The waves here are usually fairly small – unlike for example those at Sandy Beach!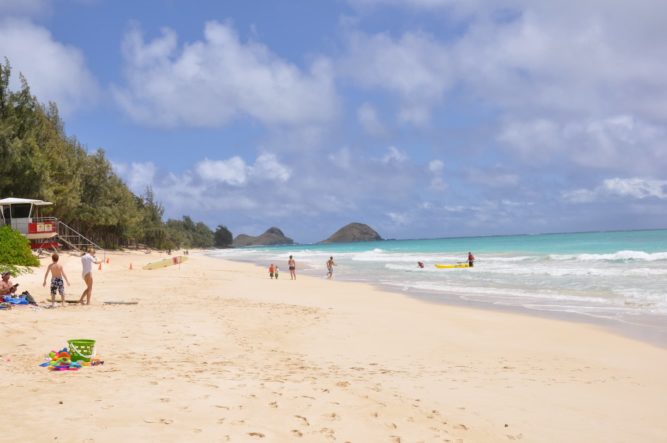 The beach park is part of a military base but open to the general public on weekends and national holidays. The beach is GREAT for for beach strolls and taking in the scenery, which is truly unique and unusual. Amenities at the beach include restrooms, showers, and picnic areas.
There are also campsites available for reservation at the park, see this website for more information.